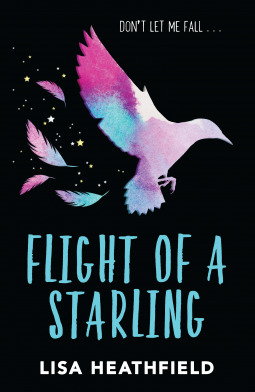 Rita and Lo, sisters and best friends, have spent their lives on the wing – flying through the air in their trapeze act, never staying in one place for long. Behind the greasepaint and the glitter, they know that the true magic is the family they travel with.
Until Lo meets a boy. Suddenly, she wants nothing more than to stay still. And as secrets start to tear apart the close-knit circus community, how far will Lo go to keep her feet on the ground?
Heathfield's third novel tells of two sisters who are used to sharing everything
- until Lo falls for a flattie. Living in a travelling circus, the girls can't get attached or do more than flirt with the locals. But in one little town, a local lad has caught Lo's eye and makes her realise that there is more to life than the circus.
I adored this story, I thought it was beautifully simplistic in its passion for a normal life. I reminded me of Seed in
the theme of exploring a different world, a different normal, but more subtle as of course the circus needs their audience. This need for a different normal was driven by Lo, the younger sister, as she starts to daydream about having a garden and a steady home, possibly with Dean. But her family means so much to her that she couldn't abandon them.
The narrative still had Heathfield's signature beautiful writing, especially as she describes the trapeze and that sense of freedom when they preform. In fact the descriptions of the magic of the circus were incredible. But it wouldn't be a Heathfield novel without a twist and this time it was a doozy! The ending really made me cry, not just because it was sad (it was) but because it was so powerful. The whole story was, and it was amazing.
Published 29th June 2017 by Electric Monkey. Thank you to the publisher and Netgalley for my copy in exchange for an honest review.