A dark, gripping and witty thriller in which the only thing humanity has control over is death.

In a world where disease, war and crime have been eliminated, the only way to die is to be randomly killed ("gleaned") by professional scythes. Citra and Rowan are teenagers who have been selected to be scythes' apprentices, and despite wanting nothing to do with the vocation, they must learn the art of killing and understand the necessity of what they do.

Only one of them will be chosen as a scythe's apprentice and as Citra and Rowan come up against a terrifyingly corrupt Scythedom, it becomes clear that the winning apprentice's first task will be to glean the loser.
This book… man, this book! Right from the off, this has such an interesting concept and was handled wonderfully. Where death is no longer a natural part of life, particular humans have to glean to control the populace and these people are trained in the art of killing, as well as history and philosophy. I just adored this world, it was fascinating to see how humanity could evolve to deal with a world where death just wasn't a thing. In this post-Mortal world, where life wasn't limited, things like art, theatre and literature didn't have the same effect because without an impending ending, passion seemed to not exist. Plus everything from security to the building of new architecture was handled by the super computer/AI called the Thunderhead. Citra and Rowan are handpicked and thrown head first into training to kill as well as all the politics and regulations that monitor the Scythedom, and I loved every minute of it!
Thank you to the publisher for my copy in exchange for an honest review.
The Invitation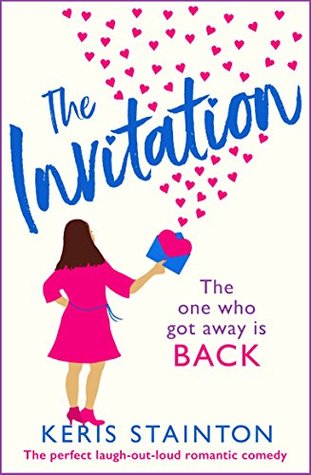 When Piper James unexpectedly gets a message from her insanely hot teenage crush Rob Kingsford, inviting her to their school reunion, her heart flips. She hasn't seen Rob in eight years – and he's always been the one who got away.

Throw in some old friends (and frenemies), a sister on the edge of a meltdown and a few too many cosmos and you have all the ingredients for a real night to remember… Will Piper and Rob finally get together, the second time around?
Like all of Keris' novels, this is a rom-com movie in a book, with all of the cuteness and giggles that come with it. Piper is a girl who knows she has weight issues but over the years has embraced her size, put the negative comments down and is now very happy in her new life in London. All this positivity is tested when she is invited to her school reunion and is faced with not only her former bullies but also her lost love, Rob. I really enjoyed this, it was easy to read and to fall in love with Piper and Rob and all their miscommunications, mis-timings and just overall adorable love story. You really feel for Piper, with her body confidence issues being tested, her desire to leave her old life behind but ultimately being drawn back into her home town, and her general attitude to life was lovely and aspirational. Yet another hit from Keris!
Thank you to the publisher and Netgalley for my copy in exchange for an honest review.
Open Road Summer
After breaking up with her bad-news boyfriend, Reagan O'Neill is ready to leave her rebellious ways behind. . . and her best friend, country superstar Lilah Montgomery, is nursing a broken heart of her own. Fortunately, Lilah's 24-city tour is about to kick off, offering a perfect opportunity for a girls-only summer of break-up ballads and healing hearts.

But when Matt Finch joins the tour as its opening act, his boy-next-door charm proves difficult for Reagan to resist, despite her vow to live a drama-free existence.

This summer, Reagan and Lilah will navigate the ups and downs of fame and friendship as they come to see that giving your heart to the right person is always a risk worth taking. A fresh new voice in contemporary romance, Emery Lord's gorgeous writing hits all the right notes.
A story about best friends and road trips will always be a hit with me, and Open Road Summer was no different! After a tough few months, Reagan wants to leave her old life and troubles behind when she accompanies her best friend on tour. This girls-only bonding time is ruined soon by the arrival of another country singer, Matt Finch, who joins the tour to squish rumours spreading about Lilah's hometown boyfriend. Much like Lord's other novels, this was full of heartfelt emotions and tough situations. Poor Reagan, she has had a heck of a life! She wants to move past her troublesome ex-boyfriend and the police record that he dragged her into, and by having some quality time with her bestie and maybe even snuggling up with Matt, she can grow as a person and better her photography skills. I did like this, it wasn't the tale of best friendship I thought it was going to be but rather a story of personal growth and growing up.
Thank you to the publisher and Netgalley for my copy in exchange for an honest review.