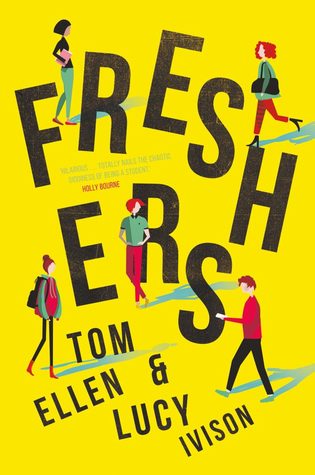 Another laugh-out-loud dual narrative, Freshers is a YA novel following two protagonists through that tumultuous first year of university. Starring new characters – but featuring some familiar faces from Lobsters – Freshers is a contemporary, authentic story packed full of love, sex and friendship.
This is told in alternating chapters through freshers week and beyond, as Luke and Phoebe start university and tackle the sudden grown up responsibilities that come with it.
We should all know by now that we can go to Lucy and Tom's books when we need a funny and realistic love story, and their latest is no different. This time around the characters are older, in their late teens as they head off to university. This brought back hilarious and fond memories of my own uni life, as well as being glad it wasn't as bad as this!
Like I said, Lucy and Tom's books are always very funny and having characters venture off into the unknown by themselves, failing to navigate adult life, they got themselves in some almost cringe-worthy situations. I
had to be careful where I was reading; I snorted with laughter in a quiet coach on the train, and had to leave the living room because I was distracting mum's TV watching.
Behind the fun and frivolous life of a fresher, there were real fears and issues tackled, such as mental health (especially relating to men's perceived masculinity), new relationships and leaving home for the first time. It was really well balanced between the mad/scary stuff and the randomly funny stuff. I will be recommending this to every teenager, as it shows a real-life depiction of how you don't have to grow up all at once, everyone messes up, and it's ok to talk to someone when you're feeling crappy. A brilliant and hilarious book with really important messages but also just shows how unexpectedly amazing and terrifying uni life can be.
Published 3rd August 2017 by Chicken House.