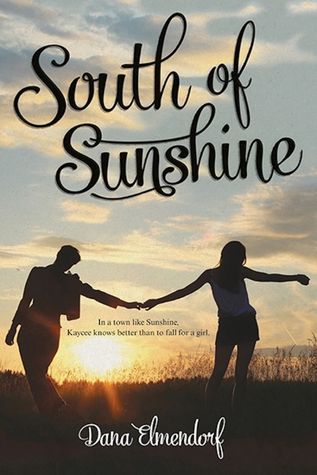 What is Kaycee willing to risk for the sake of love?
And what will she risk for acceptance?
In Sunshine, Tennessee, the main event in town is Friday night football, the biggest party of the year is held in a field filled with pickup trucks, and church attendance is mandatory. For Kaycee Jean McCoy, life in Sunshine means dating guys she has no interest in, saying only "yes, ma'am" when the local bigots gossip at her mom's cosmetics salon, and avoiding certain girls at all costs. Girls like Bren Dawson.

Unlike Kaycee, Bren doesn't really conceal who she is. But as the cool, worldly new girl, nobody at school seems to give her any trouble. Maybe there's no harm if Kaycee gets closer to her too, as long as she can keep that part of her life a secret, especially from her family and her best friend. But the more serious things get with Bren, the harder it is to hide from everyone else. Kaycee knows Sunshine has a darker side for people like her, and she's risking everything for the chance to truly be herself.
First up, I don't read much LGBT books. Not that I avoid them, I just don't seem to pick them up as often. Which maybe says something about their availability rather than my taste but I digress. The point is, I didn't have expectations of this story other than a standard romance: sweet, funny, maybe a bit forbidden or complicated, but ultimately a happy ending. And South of Sunshine was all of that but with added complicated.
Kaycee hasn't even admitted to herself that she's gay; she is understandably scared of the reaction and the fall back in her town and especially her conservative mother. And so far she's been doing a decent job of denying that part of herself until she can escape, until new girl Bren turns up. Gorgeous, sporty and very free-spirited, Bren is exactly who Kaycee should be careful of but she can't help but be drawn to her. I really liked their initial romance, it was sweet and slow and opened up a part of Kaycee that she had been denying, which isn't healthy or fair.
The other side of it was surprisingly dangerous. The towns people were so very ignorant, or maybe I'm just very open minded; reminded me of a great quote on twitter, from Juno Dawson: 'smoosh who you want to smoosh' and I really do believe it's that simple! But clearly these backwater folks didn't and it was just heartbreaking to see them affect Kaycee and Bren.
After the dramatic fallout where Kaycee's lies and fear caught up with her, it was a nice surprise to have such a hopeful ending. I mean, obviously things aren't going to change overnight but it was so sweet to see that Kaycee wasn't as along as she thought, nor that our faith in humanity was totally crushed. All in all, a very sweet first love story with a not-so-subtle message of the fear and hatred that fuels what should be a simple debate: love equals love.
Published 1st April 2016 by Albert Whitman. Thank you to the publisher and Netgalley for my copy in exchange for an honest review.