Top Ten Tuesday was created by The Broke and the Bookish and now lives at That Artsy Reader Girl.
I've left off university course books because obviously they are not books I would normally pick up but I read them for a reason.


1 - One Night Stand by JS Cooper - books like this, I'm almost ashamed to admit to reading; not because they are about sex, which no-one should be ashamed to read about, but because they are basically just about sex! Barely a plot, badly edited, just something fun and doesn't require much thinking.
2 - What A Girl Wants by Lindsey Kelk - not that this was particularly bad, it wasn't. I just carried on with it even after nothing made sense and I realised it was book two in a series.
3 - We Should All Be Feminists by Chimamanda Ngozi Adichie - I think with this one, it's more a case of 'I can't believe it took me so long to read'. I really got into feminism and what it meant, both generally and personally, at university and I only read this last year.
4 - Legacy of Lies by Jillian David - I said it in my review: I thought it was going to be a great Western slash supernatural story and it wasn't! It was so disappointing, really, in terms of magical elements and the romance was rushed. I only finished it because it was a review book.
5 - Rebecca by Daphne Du Maurier - when I read it, I was barely into classics and I was surprised at how much I adored it!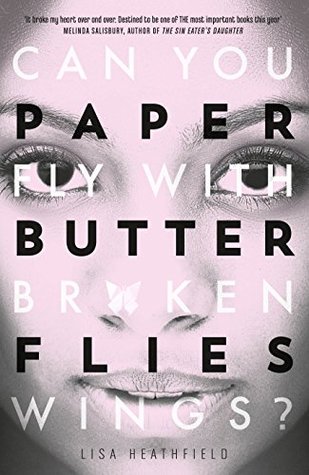 6 - Paper Butterflies by Lisa Heathfield - horrible. So good, but just a awful story, made me sick at times but so damn good!
7 - Undone by Cat Clarke - as much as I love her writing and her stories, they are all so awful and sad that I do have to force myself to read them! Chilling and clever, that's how I'd describe Clarke's books, they definitely stay with you.
8 - It's the End of the World As We Know It by Saci Lloyd - seriously strange, I struggled with this one and once again, only persevered because it was a review book.
9 - Anomaly by Krista McGee - I'm not sure why I expected a book picked up in a Christian gift shop wouldn't be about religion finding its place in a dystopian world but still... pretty weird, badly paced and just not for me.
10 - Darkness Falls by Jessica Sorenson - even though I read this nearly four years ago, I can distinctly remember wanting to DNF it on multiple occasions. I kinda wish I hadn't bothered, as now I can't even remember the basic premise!