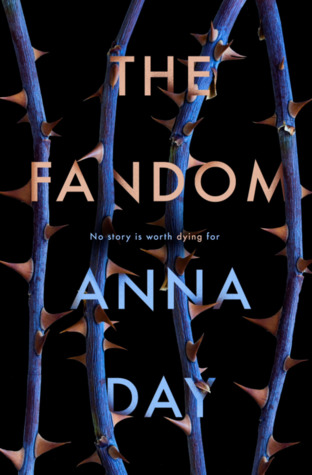 Cosplay ready, Violet and her friends are at Comic-Con.

They can't wait to meet the fandom of mega movie, The Gallows Dance. What they're not expecting is to be catapulted by freak accident into their favourite world – for real. Fuelled by love, guilt and fear, can the friends put the plot back on track and get out? The fate of the story is in their hands ...

A fast-paced, genre-flipping YA fantasy adventure from a brand new author, writing in homage to the best YA fiction.
It is every fangirl's dream to fall into their favourite book but Violet soon realises that the dangers are a lot closer when she's really there. When she and her friends crash through some sort of hole in space and time and land in The Gallows Dance, Violet has to fill the protagonist Rose's shoes and continue the story.
Honestly, I was sort of conflicted going in to this; it was news to me how the story came about, partnered with the Big Idea Competition but I didn't let that deter me. I figured it can't be that different from fanfiction! As a contemporary inside a dystopian, it was well aware
of the stereotypes and the characters didn't want to fall into them, but they also made fun of the tropes and famous names - it was a little strange. None the less, pretty good world-building, as she had to establish both home and inside-the-book structure and all the characters were interesting to read about. Violet I could identify with straight away and her relationship with younger brother Nate was incredibly similar to me and my brother; I got a little annoyed with how many times she referred to Kate's "soft Liverpool accent" but Kate was awesome, like the resident sceptic. Alice was pretty awful and I struggled to understand why they were even friends but shared history is important, I guess.
I could also see how it was going to veer off the "canon" of the original story, the original being that Rose fell in love with Willow and her death sparked the revolution. But right away, Willow was two-dimensional and annoying, which was the point so it worked. And Ash was utterly adorable, maybe the typical puppy-dog, other side of the love triangle, but it was fascinating the way this crash gave him a better backstory.
It was a very twisty plot, as the "canon" is dragging them along but their very presence is ruining the original storyline. Some of the reveals and surprises were quite clever and I really enjoyed the twists and hiccups as the canon must be completed. However, I
could see the hole right away - the hints were obvious but even then, I wasn't sure if it was all just a coma dream or not - kept me on my toes!
All in all, I really liked it: it wasn't really heavy or complicated to read, the world was typical dystopian but that was the point, and the characters made the story funny and very enjoyable. Maybe just don't expect too much but still a good story.
Published 4th January 2018 by Chicken House. Thank you to the publisher for my copy in exchange for an honest review.