The Plus One by Sophia Money-Coutts
The Plus One [n] informal a person who accompanies an invited person to a wedding or a reminder of being single, alone and absolutely plus none

Polly's not looking for 'the one', just the plus one…
Polly Spencer is fine. She's single, turning thirty and only managed to have sex twice last year (both times with a Swedish banker called Fred), but seriously, she's fine. Even if she's still stuck at Posh! magazine writing about royal babies and the chances of finding a plus one to her best friend's summer wedding are looking worryingly slim.

But it's a New Year, a new leaf and all that. Polly's determined that over the next 365 days she'll remember to shave her legs, drink less wine and generally get her s**t together. Her latest piece is on the infamous Jasper, Marquess of Milton, undoubtedly neither a plus one nor 'the one'. She's heard the stories, there's no way she'll succumb to his charms…
I expected a quick and funny read from this book, but I didn't quite enjoy it like I'd hoped. It tells of Polly, a young woman who works for a gossip magazine, who is unhappy with her job and her life in general. Fed up of waiting around for the guys she likes to text her back, she goes out on a job to interview Jasper, the Marquess of Milton, and gets that tingly feeling. I'm going to be honest – I read this a good six months ago and apart from being very underwhelmed by it, I can barely remember a thing! Which says a lot about the book itself. Very light-hearted, Polly doesn't really take herself too seriously and neither did I – I just couldn't, not with the way she behaved, made a slight fool of herself and bared her heart to a guy who probably didn't deserve it. The romance was alright but the sex scenes were eh. The fat-shaming made me cringe and there was no real development, not from Polly and her non-existent career plans, and minimal from Jasper who needed to give up his bad-boy ways and commit to an actual adult relationship. A very quick but not entirely enjoyable read.
Thank you to the publisher and Netgalley for my copy in exchange for an honest review [gifted]
Fourteen-year-old Stevie lives in Lewes with her beloved vinyl collection, her mum... and her mum's depression. When Stevie's mum's disability benefits are cut, Stevie and her mother are plunged into a life of poverty. But irrepressible Stevie is determined not to be beaten and she takes inspiration from the lyrics of her father's 1980s record collection and dreams of a life as a musician. Then she meets Hafiz, a talented footballer and a Syrian refugee. Hafiz's parents gave their life savings to buy Hafiz a safe passage to Europe; his journey has been anything but easy. Then he meets Stevie... As Stevie and Hafiz's friendship grows, they encourage each other to believe in themselves and follow their dreams.
Although probably too young for me, as the protagonists were early teens, I really enjoyed this. It tells of Stevie, struggling to keep up with school and juggle her mum's depression, and her budding friendship with Hafiz, a Syrian refugee with a love of football. They bond over wanting to escape the harsh realities of life and despite the big cultural differences, it was a heartfelt story about friendship and overcoming those differences and realising that we are all just human. It was such a joy to read, bringing together the dramatic realities of refugees and war with mental illness and the meaning of family, bridging the gaps between cultures with the love of food or friends or music. Like I said, it was a little young for me but I still really appreciated the very important message Siobhan was trying to accomplish: people are worth it.
Thank you to the publisher for my copy in exchange for an honest review [gifted]
Genuine Fraud by E Lockhart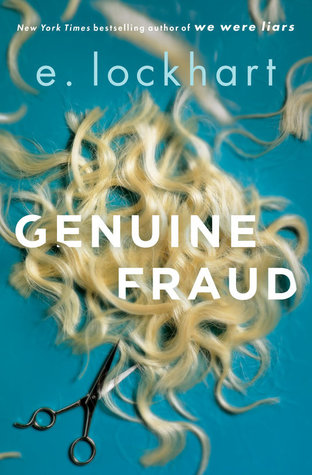 Imogen is a runaway heiress, an orphan, a cook, and a cheat.
Jule is a fighter, a social chameleon, and an athlete.
An intense friendship. A disappearance. A murder, or maybe two.
A bad romance, or maybe three.
Blunt objects, disguises, blood, and chocolate. The American dream, superheroes, spies, and villains.
A girl who refuses to give people what they want from her.
A girl who refuses to be the person she once was.
Typical of E Lockhart, this is a teen psychological thriller told backwards. That took some getting used to, piecing the threads together the wrong way! While I did like this story, it was a little predictable – which is either a comment on Lockhart's writing or my detective skills, I'm not sure which! Saying that, there were still a couple of shockers and the overall story of Jules and who she really is was very interesting to read and unpick. Jules was a fascinating character – so obviously a psychopath, she cleverly adapted to any social situation and used disguises and accents to get what she wanted. She was also truly horrible, but also had a pretty good reason for acting as such, which we discovered near the end of the book. As for Imogen – well, yet another spoilt rich kid who wants to discover who she is by lying to her parents and running away. Their dynamic was quite toxic and I really must applaud Lockhart for writing characters that I simultaneously love reading about but hate as people. Another knockout from Lockhart, as far as I'm concerned.
Thank you to the publisher and Netgalley for my copy in exchange for an honest review [gifted]