Weekly Highlights is a feature borrowed from Faye of A Daydreamer's Thoughts, where I get to highlight my posts of the week, show you my new books and talk about bookish things!
April seems to have flown by and I'm sure that because I had two weeks off for Easter. Unfortunately, not a lot of reading or blogging happened because I came down a really bad cold that knocked me off my feet for a week. Yay holidays!
On The Blog
Top Merch for a Harry Potter Fan
Review of Into the Fire by Jeaniene Frost
Top Ten Most Unique Books I've Ever Read
Review of Windfall by Jennifer E Smith
Top Ten Book Turn Offs
Review of The Island at the End of Everything by Kiran Millwood Hargrave
Currently Reading
I needed something light hearted so I'm reading What A Girl Wants by Lindsey Kelk - a rom-com of a book, funny and sweet so far. It is also a sequel, which I did not know when I bought it but I'm powering through anyway.
On My Bookshelf
Barefoot on the Wind by Zoe Marriott
There is a monster in the forest...
Everyone in Hana's remote village on the mountain knows that straying too far into the woods is a death sentence. When Hana's father goes missing, she is the only one who dares try to save him. Taking up her hunting gear, she goes in search of the beast, determined to kill it - or be killed herself.
But the forest contains more secrets, more magic and more darkness than Hana could ever have imagined. And the beast is not at all what she expects...
Because You'll Never Meet Me by Leah Thomas
Ollie and Moritz are best friends, but they can never meet. Ollie is allergic to electricity. Contact with it causes debilitating seizures. Moritz's weak heart is kept pumping by an electronic pacemaker. If they ever did meet, Ollie would seize. But Moritz would die without his pacemaker. Both hermits from society, the boys develop a fierce bond through letters that become a lifeline during dark times—as Ollie loses his only friend, Liz, to the normalcy of high school and Moritz deals with a bully set on destroying him.

A story of impossible friendship and hope under strange circumstances, this debut is powerful, dark and humorous in equal measure. These extraordinary voices bring readers into the hearts and minds of two special boys who, like many teens, are just waiting for their moment to shine.
Both of these I picked up in charity shops, along with What A Girl Wants. I'm really excited about both books, I've heard great things and I especially cannot wait for a 'Beauty and the Beast' retelling set in Japan!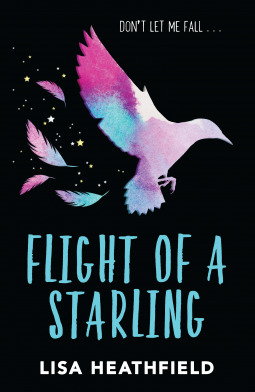 Flight of the Starling by Lisa Heathfield
Rita and Lo, sisters and best friends, have spent their lives on the wing – flying through the air in their trapeze act, never staying in one place for long. Behind the greasepaint and the glitter, they know that the true magic is the family they travel with.
Until Lo meets a boy. Suddenly, she wants nothing more than to stay still. And as secrets start to tear apart the close-knit circus community, how far will Lo go to keep her feet on the ground?
I've just been approved for this and I am so excited! It's being published early June, I believe, so I do want to read it soon and Lisa's previous books have been incredible. Thank you Netgalley and Electric Monkey!
May TBR
I have ordered A Court of Wings and Ruin and even though it's daunting, I want to read this first. I also have my (so far) lonely review book: Flight of the Starling. Apart from that, I'm purposefully leaving it pretty blank. I'm still in a bit of a weird reading mood, work is killing my brain but I've got some books that I'm actually excited for now, so here's to a better reading month! And let me know what you're planning on read in May.