Weekly Highlights is a feature borrowed from Faye of A Daydreamer's Thoughts, where I get to highlight my posts of the week, show you my new books and talk about bookish things!
March was a funny month for me - reading took a back seat while I panicked and fought for my job (restructures are the worst). Luckily, I got it - yay! - but getting back into the book world has been a struggle. Please bear with me as I try to get excited about books again, but good for me I have a few really good-looking releases coming up!
Currently Reading
Into The Fire - book four and the finale in Jeaniene Frost's Night Prince series - details below.

On My Bookshelf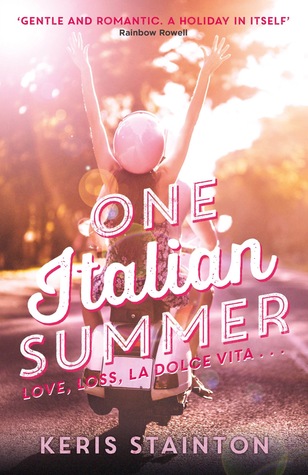 One Italian Summer by Keris Stainton
It's been a year since Milly, Elyse and Leonie's dad died, and a year since their last trip to Rome. Summer's here again, and once again they are heading with their mum to Italy - but what's it going to be like going without Dad? Rome still holds its familiar charms - the sun is still as warm, the gelato as delicious, the people as welcoming. But nothing is quite as it once was ...
With grief still raw for all of them, Milly is facing the additional awfulness of having to see Luke again - gorgeous, gorgeous Luke, who she had a fling with last year, and who she made a total fool of herself with - or so she thinks. What's going to happen this time? What's more, things between Milly, her sisters and their mum are rocky - Leonie is being tempestuous and unpredictable, Elyse is caught up with her new boyfriend, and Milly feels like she just doesn't know how she fits in any more.
Over one Italian summer, can Milly find a way back to the life she once had?
Didn't even realise that Keris had a new book coming out so when I spotted this on Netgalley, I was all over it! Thank you Hot Key!
Into The Fire by Jeaniene Frost
In the wrong hands, love can be a deadly weapon.

For nearly six hundred years, Vlad Tepesh cared for nothing, so he had nothing to lose. His brutal reputation ensured that all but the most foolhardy stayed away. Now falling in love with Leila has put him at the mercy of his passions. And one adversary has found a devastating way to use Vlad's new bride against him.

A powerful spell links Leila to the necromancer Mircea. If he suffers or dies, so does she. Magic is forbidden to vampires, so Vlad and Leila enlist an unlikely guide as they search for a way to break the spell. But an ancient enemy lies in wait, capable of turning Vlad and Leila's closest friends against them…and finally tearing the lovers apart forever.
I adore Frost's books and cannot wait to find out what happens in Vlad's finale.
The Island At The End of Everything by Kiran Milwood Hargrave
Ami lives with her mother on an island where the sea is as blue as the sky. It's all she knows and loves, but the arrival of malicious government official Mr Zamora changes her world forever: her island is to be made into a colony for lepers. Taken from her mother and banished across the sea, Ami faces an uncertain future in an orphanage. There she meets a honey-eyed girl named for butterflies, and together they discover a secret that will lead her on an adventure home. Ami must go back to the island of no return, but will she make it in time?
I loved Hargrave's first book and am really looking forward to more of her beautiful writing. Thank you Chicken House!
Caraval by Stephanie Garber
Scarlett has never left the tiny island where she and her beloved sister, Tella, live with their powerful, and cruel, father. Now Scarlett's father has arranged a marriage for her, and Scarlett thinks her dreams of seeing Caraval, the far-away, once-a-year performance where the audience participates in the show, are over.

But this year, Scarlett's long-dreamt of invitation finally arrives. With the help of a mysterious sailor, Tella whisks Scarlett away to the show. Only, as soon as they arrive, Tella is kidnapped by Caraval's mastermind organizer, Legend. It turns out that this season's Caraval revolves around Tella, and whoever finds her first is the winner.

Scarlett has been told that everything that happens during Caraval is only an elaborate performance. But she nevertheless becomes enmeshed in a game of love, heartbreak, and magic with the other players in the game. And whether Caraval is real or not, she must find Tella before the five nights of the game are over, a dangerous domino effect of consequences is set off, and her sister disappears forever.
Went on an ebook shopping spree to get me out of this reading slump, so along with Caraval, I also bought Welcome to Night Vale by Joseph Fink, The Deal by Elle Kennedy, and All Fired Up by Elle Kennedy and Vivan Arend.
April TBR
First up are all my review books, those mentioned above as well as Windfall and The Circus. I think that's all I'll be able to read, like I said I've been in a weird reading place for a while now so I'm not putting too much pressure on myself. Let me know what you're planning to read this month and if there's any of these books you're also excited for!