Top Ten Tuesday was created by The Broke and the Bookish.
I didn't do the original post from 2014 so I'm being boring and sticking to the basics. So here is my list of the most unique books I've read, be it in format, characters or plot.
1 - Illuminae by Amie Kaufman and Jay Kristoff
Written in different formats, from IM's to transcripts, this is one of my favourite books of all time and it is definitely unique in its story-telling and incredible plot.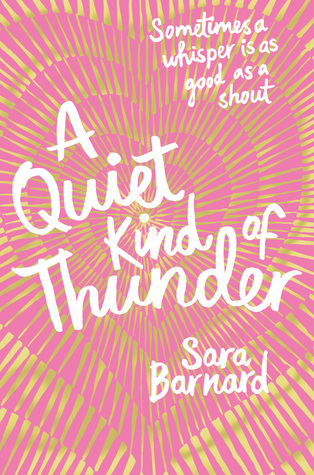 2 - The Upside of Unrequited by Becky Albertalli
Every character is diverse in some way: Molly has anxiety, her twin sister is gay, their parents are gay, the love interest is a Jewish nerd - ok so that's not the best example but still! It has the most amazingly eclectic cast and all of them were brilliant.
3 - A Quiet Kind of Thunder by Sara Barnard
Not only is it an amazingly realistic teenage love story, it's also all about communication because Rhys is deaf and Steffi has selective mutism so they talk through sign language.
4 - The Next Together by Lauren James
This is simultaneously about time travel and reincarnation as Katherine and Matthew are reborn across the centuries to fall in love and make the world a better place. Another one of my favourite love stories, as well as really clever use of different time periods, history, and multiple perspectives.
5 - Nimona by Noelle Stevenson
A graphic novel written from the perspective of the bad guy? I am all over this one! Clever, funny and beautiful illustrations.
6 - Seed by Lisa Heathfield
It's set in a cult. A cult! How wonderful and creepy it is to live in a cult but not knowing until Pearl meets Ellis, a boy from the outside.
7 - The Sin Eater's Daughter by Melinda Salisbury
I haven't found another book that writes fairy tale-type stories like this. It is beautifully dark and scary and
the bad guy makes my skin crawl, but
the world building and characters are just incredible.
8 - The Book Thief by Markus Zusak
Narrated by Death, we see Liesel, the book thief, grow up in Nazi Germany. Everyone should know this book, it is amazing and sad and so cleverly written.
9 - One by Sarah Crossan
Written in verse, this tells of conjoined twins as they grow up and have to deal with bullying, prejudices and medical bills.
10 - Girl Up by Laura Bates
Partly handbook on how to grow up female, partly feminist manifesto on how much it sucks sometimes to grow up female. But all brilliant writing, funny anecdotes and lovely drawings of dancing vaginas.