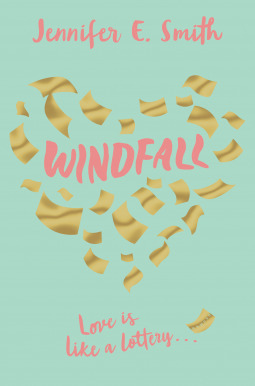 Alice doesn't believe in luck—at least, not the good kind. But she does believe in love, and for some time now, she's been pining for her best friend, Teddy. On his eighteenth birthday—just when it seems they might be on the brink of something—she buys him a lottery ticket on a lark. To their astonishment, he wins $140 million, and in an instant, everything changes.
At first, it seems like a dream come true, especially since the two of them are no strangers to misfortune. As a kid, Alice won the worst kind of lottery possible when her parents died just over a year apart from each other. And Teddy's father abandoned his family not long after that, leaving them to grapple with his gambling debts. Through it all, Teddy and Alice have leaned on each other. But now, as they negotiate the ripple effects of Teddy's newfound wealth, a gulf opens between them. And soon, the money starts to feel like more of a curse than a windfall.
As they try to find their way back to each other, Alice learns more about herself than she ever could have imagined . . . and about the unexpected ways in which luck and love sometimes intersect.
When Alice buys her best friend a lottery ticket for his birthday, the last thing they expect to happen is for it to win. But it does and all of a sudden, Teddy has a fortune. I absolutely
adore Smith's books, they are simply beautiful but with hidden depths. And in this case, it was all about the happiness that money can't buy.
Alice is still dealing with the death of her parents when she was little, still coming to terms with her definition of "orphan", and now that she's 18, she's not sure whether to follow her parents' dream of Stanford or her own heart. Alice was taken in by her dad's brother and his family, growing up alongside Leo, her cousin. They and Teddy are an inseparable trio.
Teddy has also had his share of bad luck: his dad liked to gamble and after he lost too much, he left Teddy and his mum with his debt and unable to afford their apartment. Teddy has always been self-conscious of his background so when he literally hits the jackpot, he (understandably) goes a little nuts buying all the things he's always wanted, from a sports car to a pinball machine.
Like I said, Smith's stories tend to have hidden depths and the happiness that comes from winning the lottery is soon tainted when Teddy isn't doing anything responsible with it, at least in Alice's opinion. Things are complicated with the fact that Alice has a huge crush on Teddy but the money has created a wedge between them. I really liked seeing how things progressed, from Teddy going through the five stages of shopping, to Alice coming to grips with her identity of the girl with the dead parents.
Luck mingled with fate, happiness with charity, money with gambling, everything interlinked and it took time and some serious maturity for things to finally settle down between Teddy, Alice and Leo. All in all, a surprisingly heart-warming story about responsibility, to your family and yourself, and love before material things.
Published 4th May 2017 by Pan Macmillan. Thank you to the publisher and Netgalley for my copy in exchange for an honest review.