Weekly Highlights is a feature borrowed from Faye of A Daydreamer's Thoughts, where I get to highlight my posts of the week, show you my new books and talk about bookish things!
March already! Thank god, it's getting warmer and brighter! I haven't been all that good with blogging and reading recently, too many things happening in my personal life that is taking up all my brain power. Hopefully, it won't last much longer but that's why I haven't been around that much. Anyway, here's to a better reading month ahead!
On The Blog
Currently Reading
The Scarecrow Queen by Melinda Salisbury - it's taking me a while, my mind just isn't in the mood for reading at the moment, but it is very good!
On My Bookshelf
Why would a girl who has everything want to run away and never be found?
Willow has staged runaways ever since she was a little girl. She has everything a young person should want: a rich daddy, clothes, money, a pony and a place at a prestigious boarding school. In reality, she has everything except the thing she really wants: a father who cares enough to find her.
Aged sixteen, on the eve of her father's wedding, she ruins the bride's dress and escapes through a window, determined never to return. Her missing mother was a circus performer, and Willow wants to follow in her footsteps. But the performers she meets don't want her. When her last bit of money is stolen by Suze, another runaway girl she thought she could trust, Willow becomes really homeless. Then Suze comes tumbling back into her life and a desperate Willow has to decide whether to trust her all over again . . .
So begins their frightening, exhilarating odyssey though hunger, performance, desperation and dreams. Will they both survive and will Willow make it to the circus of her imagining?
An unsolicited review copy that appeared on my doorstep, I am none the less really excited because I enjoyed Olivia's first book and this one sounds very entertaining. Thank you One World!
King's Cage by Victoria Aveyard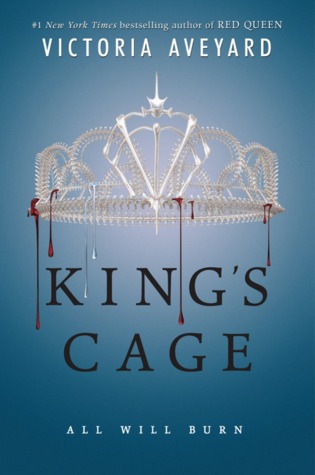 Mare Barrow is a prisoner, powerless without her lightning, tormented by her lethal mistakes. She lives at the mercy of a boy she once loved, a boy made of lies and betrayal. Now a king, Maven Calore continues weaving his dead mother's web in an attempt to maintain control over his country—and his prisoner.
As Mare bears the weight of Silent Stone in the palace, her once-ragtag band of newbloods and Reds continue organizing, training, and expanding. They prepare for war, no longer able to linger in the shadows. And Cal, the exiled prince with his own claim on Mare's heart, will stop at nothing to bring her back.
When blood turns on blood, and ability on ability, there may be no one left to put out the fire—leaving Norta as Mare knows it to burn all the way down.
It took me too long to realise that book three was on Netgalley but once I did, I snapped it up! Details are foggy on previous books but I can't wait to see what in store for Mare next. Thank you Harper and Netgalley!
Alice doesn't believe in luck—at least, not the good kind. But she does believe in love, and for some time now, she's been pining for her best friend, Teddy. On his eighteenth birthday—just when it seems they might be on the brink of something—she buys him a lottery ticket on a lark. To their astonishment, he wins $140 million, and in an instant, everything changes.
At first, it seems like a dream come true, especially since the two of them are no strangers to misfortune. As a kid, Alice won the worst kind of lottery possible when her parents died just over a year apart from each other. And Teddy's father abandoned his family not long after that, leaving them to grapple with his gambling debts. Through it all, Teddy and Alice have leaned on each other. But now, as they negotiate the ripple effects of Teddy's newfound wealth, a gulf opens between them. And soon, the money starts to feel like more of a curse than a windfall.
As they try to find their way back to each other, Alice learns more about herself than she ever could have imagined . . . and about the unexpected ways in which luck and love sometimes intersect.
This past month I bought Traitor to the Throne by Alwyn Hamilton and The Scarecrow Queen by Melinda Salisbury. And from the library, I borrowed Spectacles by Sue Perkins and Feminist Fight Club by Jessica Bennett.
March TBR
Library books are first, obviously, I never return late. I would like to read The King's Cage, before I get spoiled. And as for review books, The Upside of Unrequited by Becky Albertalli is due out early April. Let me know what you're planning on reading this month.