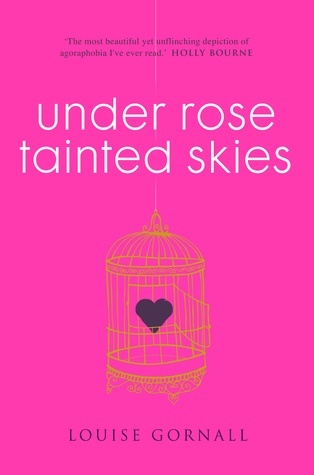 Agoraphobia confines Norah to the house she shares with her mother.
For her, the outside is sky glimpsed through glass, or a gauntlet to run between home and car. But a chance encounter on the doorstep changes everything: Luke, her new neighbour. Norah is determined to be the girl she thinks Luke deserves: a 'normal' girl, her skies unfiltered by the lens of mental illness. Instead, her love and bravery opens a window to unexpected truths …
An important and uplifting debut from a British author, which tackles mental health issues such as agoraphobia and OCD.
I do love a good portrayal of mental health issues and this story was already being raved about before publication, so I knew I had to get my hands on it. Right from the start, we get to experience life through Norah's eyes, terrified by the vastness of the space outside her house, her OCD and anxiety when things don't go the way she expected them to. I instantly fell in love with her voice, it was so honest and heartbreaking, as Norah desperately wanted to be better but was being held hostage by her brain.
Invisible illnesses can be very difficult to understand and Norah's explanations to how she feels things the way she does, how she will take comfort in the little things she can control but spiral into panic when she can't, was equal parts fascinating and terrifying. Now, I have very little experience with mental health; I have what I would consider fairly normal panic about fears like heights and slipping on ice, and my fiance has Asperger's Syndrome, so I don't know what it's like to feel as if you're being betrayed by your own body. But being inside Norah's head brought all of her fears, her panic and anxiety, her personal issues to the forefront, talking about dealing with these issues honestly and so eloquently.
Of course there has to be a love interest, something that changes to bring Norah's anxiety to a hilt and force her to change. What I liked about this, well a few things but specifically how Norah's issues didn't just disappear, she had to struggle and learn how to deal with another person in her life. I also really appreciated Luke being human; it was obvious he wanted to know Norah but it is difficult to know how to deal with such a huge illness when you haven't done so before. But he respected her boundaries and only wanted what was best for her, and that was all kinds of adorable.
This is one of those books that stick with you after you've finished. It was such a brilliant portrayal of mental health, especially anxiety and agoraphobia, which isn't tackled in many books, and I thought Gornall did an incredible job in describing the fear, anger and whirlwind of Norah's struggles and eventual progress to recovery.
Published 7th July 2016 by Chicken House.