Weekly Highlights is a feature borrowed from Faye of A Daydreamer's Thoughts, where I get to highlight my posts of the week, show you my new books and talk about bookish things!
I can't believe we're halfway through the year - it's been a hell of a 2016 so far! I got a new job, way more hours and finally some stability with my savings (fingers crossed I can move out sooner rather than later now!). My probably-too-many-hours did knock my reading but I think I'm back on track with finding a work/life balance and that includes blogging and my online life. In other news, it's the summer holidays and I am very excited to spend my days lazily reading or going on adventures in my fiancé's new car!
On The Blog
Review of Rebecca by Daphne Du Maurier (4 stars)
Currently Reading
Just finished The Long Way to a Small Angry Planet by Becky Chambers which was so clever and the futuristic space setting was brilliant. I'm now onto Valley of the Dolls, which will be my (modern) classic for the month.
On My Bookshelf
My name is Amanda. I'm 18. When you look at me, you might see that I'm pretty and popular; you might think my life is easy. But being me has never been easy. Because I haven't always been Amanda. When I was born, I was named Andrew. Now, at my new school, I finally feel like myself. But do I owe my new friends the truth about my past?
This one kind of sprung up on me but it sounds like The Art of Being Normal and then I saw it on kindle for just over £1, so yes please!
Nevernight by Jay Kristoff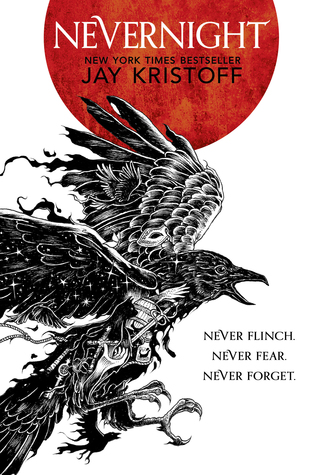 Destined to destroy empires, Mia Covere is only ten years old when she is given her first lesson in death.

Six years later, the child raised in shadows takes her first steps towards keeping the promise she made on the day that she lost everything.

But the chance to strike against such powerful enemies will be fleeting, so if she is to have her revenge, Mia must become a weapon without equal. She must prove herself against the deadliest of friends and enemies, and survive the tutelage of murderers, liars and demons at the heart of a murder cult.

The Red Church is no Hogwarts, but Mia is no ordinary student.

The shadows love her. And they drink her fear.
I'm new to Jay Kristoff, but I loved Illuminae and I'm really excited about this one. Thank you Netgalley!
Ruby Oliver is fifteen and has a shrink. But before you make up your mind about her, you should know that she has had a pretty awful (and eventful) past ten days. She has:
* lost her boyfriend
* lost her best friend (Kim)
* lost all her other friends (Nora, Cricket)
* did something suspicious with a boy
* did something advanced with a boy
* had an argument with a boy
* drank her first beer (someone handed it to her)
* got caught by her mom (ag!)
* had a panic attack (scary)
* lost a lacrosse game (she's the goalie)
* failed a math test (she'll make it up)
* hurt Meghan's feelings (even though they aren't really friends)
* became a social outcast (no one to sit with at lunch)
* and had graffiti written about her in the girls' bathroom (who knows what was in the boys'!?!).
But don't worry, Ruby lives to tell the tale. Through a special assignment to list all the boys she's ever had the slightest, little, any-kind-of-anything with, comes an unfortunate series of events that would be enough to send any girl in a panic.
I've found I absolutely love Lockhart's writing and her characters are just brilliant, so finding out that they are re-printing her older series sent me into a tiz! I also got book two in the Ruby Oliver series, The Book Boy. Thank you Hot Key and Netgalley!
The Deviants by CJ Skuse
When you set out for revenge, dig two graves

Growing up in the sleepy English seaside town of Brynston, the fearless five – Ella, Max, Corey, Fallon and Zane – were always inseparable. Living up to their nickname, they were the adventurous, rowdy kids who lived for ghost stories and exploring the nearby islands off the coast. But when Max's beloved older sister Jessica is killed, the friendship seems to die with her.

Now years later, only Max and Ella are in touch; still best friends and a couple since they were thirteen. Their lives are so intertwined Max's dad even sponsors Ella's training for the Commonwealth Games. But Ella is hiding things. Like why she hates going to Max's house for Sunday dinner, and flinches whenever his family are near. Or the real reason she's afraid to take their relationship to the next level.

When underdog Corey is bullied, the fearless five are brought back together again, teaming up to wreak havoc and revenge on those who have wronged them. But when the secrets they are keeping can no longer be kept quiet, will their fearlessness be enough to save them from themselves?
I'm really excited about this, I adore CJ's writing and can't wait to see what her latest has in store! Thank you Mira Ink and Netgalley!
Girl Hearts Girl by Lucy Sutcliffe
An inspiring, uplifting and sympathetic story about sexuality and self-acceptance, Lucy Sutcliffe's debut memoir is a personal and moving coming out story. In 2010, at seventeen, Lucy Sutcliffe began an online friendship with Kaelyn, a young veterinary student from Michigan. Within months, they began a long distance relationship, finally meeting in the summer of 2011. Lucy's video montage of their first week spent together in Saint Kitts, which she posted to the couple's YouTube channel, was the first in a series of films documenting their long-distance relationship. Funny, tender and candid, the films attracted them a vast online following. Now, for the first time, Lucy's writing about the incredible personal journey she's been on; from never quite wanting the fairy-tale of Prince Charming to realising she was gay at the age of 14, through three years of self-denial to finally coming out to friends and family, to meeting her American girlfriend Kaelyn.
I've never read anything like this so I'm really looking forward to it, and the buzz around is amazing. Thank you Scholastic and Faye Rogers PR!
July TBR
From the above, I'm prioritising The Boyfriend List. I also (still) have Songs About A Girl, and then Read Me Like A Book, which is a library book. Apart from that, I'm leaving it to chance/ how I feel. Is there any books that should be pushed to the top? Check my TBR on Goodreads and let me know!
Reading Challenges Update
Alphabet - I'm actually doing really well with this one! A few titles can easily be doubled up between challenges so the only letters I've got left now are: B, J, K, O, Q, X, Y and Z. I've got You Know Me Well or The Young Elites for Y, Queen of the Tearling and Banished by Liz de Jager lined up but I am stumped for the end of the alphabet. Any suggestions?
Classics - I'm going strong on this one, especially recently. I've read one classic a month steadily but I have quite a few that I want to read over the summer and a few for October/Halloween.
British Books - my current count is 14, I think I've read at least 2 every month so this challenge is going great!