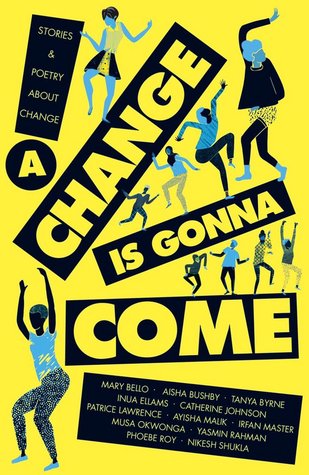 Featuring top Young Adult authors alongside a host of exciting new talent, this anthology of stories and poetry from BAME writers on the theme of change is a long-overdue addition to the YA scene. Contributors include Tanya Byrne, Inua Ellams, Catherine Johnson, Patrice Lawrence, Ayisha Malik, Irfan Master, Musa Okwonga and Nikesh Shukla.
Plus introducing four fresh new voices in YA fiction: Mary Bello, Aisha Bushby, Yasmin Rahman and Phoebe Roy.
I always find it difficult to review an anthology, because there are lots of little stories in these pages and all of them were incredible.
Not only did this introduce me to lots of great new authors, it also spanned a range of
very different types of stories, from fantasy to contemporary, romance to poems and everything in between. I really enjoyed all of them, with girls learning about refugees, finding first love and acceptance, overcoming anxiety and battling friends about racism, all the stories covered change and how scary it is sometimes.
Like I said, there were lots of different topics discussed, not just race and diversity - things like OCD and anxiety, empathy, love and being true to yourself. I think this whole anthology is incredibly important to see different stories, different experiences in print, and what it means to want change, whatever scale it's in.
Published 10th August 2017 by Stripes Publishing. Thank you to the publisher and Netgalley for my copy in exchange for an honest review.