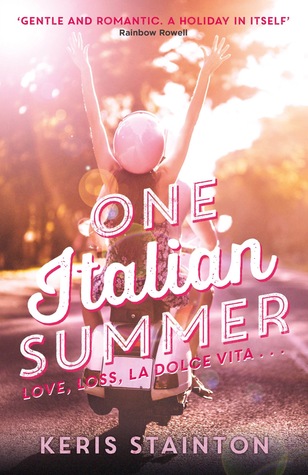 It's been a year since Milly, Elyse and Leonie's dad died, and a year since their last trip to Rome. Summer's here again, and once again they are heading with their mum to Italy - but what's it going to be like going without Dad? Rome still holds its familiar charms - the sun is still as warm, the gelato as delicious, the people as welcoming. But nothing is quite as it once was ...
With grief still raw for all of them, Milly is facing the additional awfulness of having to see Luke again - gorgeous, gorgeous Luke, who she had a fling with last year, and who she made a total fool of herself with - or so she thinks. What's going to happen this time? What's more, things between Milly, her sisters and their mum are rocky - Leonie is being tempestuous and unpredictable, Elyse is caught up with her new boyfriend, and Milly feels like she just doesn't know how she fits in any more.
Over one Italian summer, can Milly find a way back to the life she once had?
I adore Keris' writing style, it is always so easy to read and fall in love with. Her latest instalment
follows Milly, the middle sister of three, as her family still struggle with the sudden death of her dad and the prospect of going to Italy for the first time without him.
Right from the off, it is evident that
everyone has changed after their dad died, Milly in particular has retreated into herself. Their mum doesn't like to talk to them about it, Elyse the eldest is determined to pick up the pieces, and Leonie the youngest is getting more confident without Milly really noticing. It is strange how grief, especially long term, affects everyone differently but I think Keris did a wonderful job of sorting through everything and everyone's wavering emotions, especially in such a big family.
So, they went to Italy for their aunt's wedding and they met up with their favourite cousin and his best friend aka Milly's crush. I thought this delicate balance between remembering their dad and having a nice holiday worked; I got the message about
learning to get on with life, celebrate the good things, and how it's ok to start new things and move on without feeling guilty. Even a year after he died, their dad was clearly still around them and going to Italy, their regular holiday, meant that they could all remember him in a place that they loved and simultaneously get out of their holding pattern at home.
There was lots of really important and touching things about sisterhood, support and grief but also
fun contemporary romance stuff about holidaying in Italy and growing up. Milly had lots of learn about finally confronting her fears and getting into a good place with Luke. All in all, a very sweet and moving story, equal parts funny and sad, cute and heavy.
Published 4th May 2017 by Hot Key Books. Thank you to the publisher and Netgalley for my copy in exchange for an honest review.