Once again I'm late to the party, this time in more ways than one! I rarely do Top Ten Tuesdays but this is a great topic and of course it should have been up a week ago. Anyway, here are some authors that I read for the first time this past year.
Debut:
Lauren James - I actually read both of her books this year but specifically I'm talking about her incredible debut: The Next Together. The science, the use of time, the completely original look at reincarnation, the epic love story, all of it was amazing.
Alwyn Hamilton - everyone should have heard about Alywn by now, her debut Rebel of the Sands totally rocked the blogosphere and was justified!
Louise Gornall - Under Rose-Tained Skies gave such a heart-felt and accurate description of mental illness that had me nearly in tears.
Oldies:
Gwenda Bond - I hadn't really heard of Gwenda before Curious Fox sent me her Lois Lane books but I am glad I started with them because I am all about the superheroes lately and hearing more about a strong supportive woman in the DC universe was right up my street.
Jane Austen - I read Northanger Abbey and Pride and Prejudice for the Classics Challenge this year and really enjoyed both of them. I have technically read Northanger before but it was A- years ago (in school!) and B- before I was on Goodreads so it doesn't count. Ha.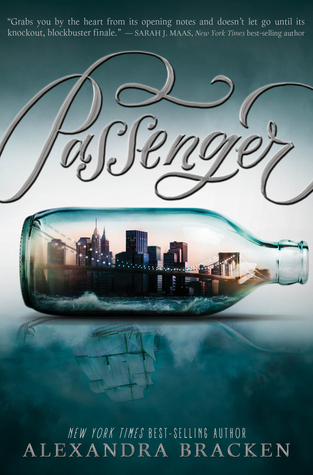 Marie Lu - I've been aware of the Legend trilogy for ages - duh, I haven't been living under a rock - but just haven't had a change to pick it up. That is until I found it cheap and complete in The Works and sped through it.
Alexandra Bracken - everyone goes on about how great her The Darkest Minds books are but I only picked this author up because of Passenger, a time-travelling pirate story. Do I need to say more?
Daphne Du Maurier
- another Classics Challenge catch-up. I'd heard of
Rebecca
, her most famous novel, before but only read it this year and oh boy! So damn good!
Emery Lord - I really don't know why it's taken me this long to read an Emery Lord book, her contemporary romances are beautifully written and tend to include some amazing real-life issues as well. This is especially true in When We Collided which is her latest novel and I read this year.
Jay Kristoff - now, Jay I'd heard of but wasn't all too fussed about his books. Until Illuminae came along last year, co-authored with Amie Kaufman. One of my new all-time favourite books, it blew me away and then his new solo book, Nevernight, came out this year and I gobbled that up too!
There you have it! My top ten list of author's I really should have read before but now consider them up there in my favourites. Do you share any authors or books on my list? What's on yours?