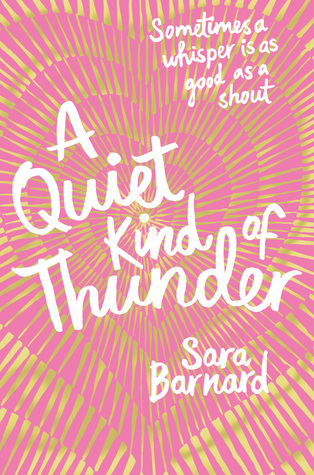 Steffi doesn't talk, but she has so much to say.
Rhys can't hear, but he can listen.
Their love isn't a lightning strike, it's the rumbling roll of thunder.
Steffi has been a selective mute for most of her life - she's been silent for so long that she feels completely invisible. But Rhys, the new boy at school, sees her. He's deaf, and her knowledge of basic sign language means that she's
to look after him. To Rhys, it doesn't matter that Steffi doesn't talk, and as they find ways to communicate, Steffi finds that she does have a voice, and that she's falling in love with the one person who makes her feel brave enough to use it.
I adored Sara's first book so was very much looking forward to this. Plus I cannot resist a contemporary romance!
This is one of my new favourite love stories; it built slowly, the two of them starting as friends and getting to know each other, overcoming the awkward shyness of admitting feelings and a first kiss. It was all just so damn cute!
It also had such an interesting set of characters, from Steffi and her selective mutism, her chronic shyness and anxiety, to Rhys and his deafness and his adorable confidence. The story dealt with a lot more than just first love.
Another thing I absolutely loved was the depiction of an
incredible support system, for both of them. Steffi had her dad, her mum didn't always know what to say but loved her anyway, and her best friend Tem was her complete opposite but they complimented each other. Rhys had an amazing family, and his old school friends all knew exactly what he had to go through every day because they dealt with the same. As we get to know both of them, it becomes clear that without meaning to, Steffi and Rhys push the other to be better, for themselves and for each other. I think that is what makes great relationships, wanting to be better for your partner but because you know it's the best thing for you.
Can you tell yet just how much I loved this? Because I really did! I had a massive grin on my face for most of the book! I think it was perfect in its imperfections because life doesn't always go the way you want it to, but if you care about someone then you have the support to do better.
Published 12th January 2017 by Macmillan Children's Books. Thank you to the publisher and Netgalley for my copy in exchange for an honest review.