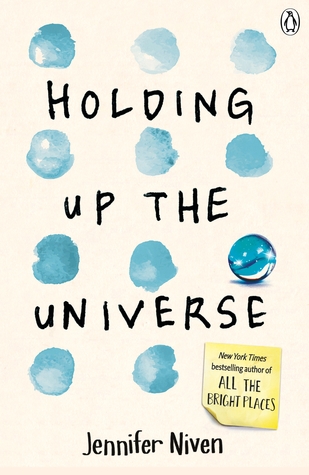 Everyone thinks they know Libby Strout, the girl once dubbed 'America's Fattest Teen'. But no one's taken the time to look past her weight to get to see who she really is. Since her mum's death, she's been picking up the pieces in the privacy of her home, dealing with her heartbroken father and her own grief. Now, Libby's ready: for high school, for new friends, for love, and for EVERY POSSIBILITY LIFE HAS TO OFFER.
I know the part I want to play here at MVB High. I want to be the girl who can do anything.
Everyone thinks they know Jack Masselin too. Yes, he's got swagger, but he's also mastered the art of fitting in. What no one knows is that Jack has a secret: he can't recognize faces. Even his own brothers are strangers to him. He's the guy who can re-engineer and rebuild anything, but he can't understand what's going on with the inner workings of his own brain. So he tells himself to play it cool:
Be charming. Be hilarious. Don't get too close to anyone.
Until he meets Libby. When the two get tangled up in a cruel high school game which lands them in group counseling, Libby and Jack are both angry, and then surprised. Because the more time they spend together, the less alone they feel.
Because sometimes when you meet someone, it changes the world - theirs and yours.
I love a good romantic contemporary with a twist, and this one had that twist and did it wonderfully. Here are two people that could not be more different on the surface but both have hidden depths, fears and hopes that they can't share with anyone else. And all it took was a punch in the face to bring them together!
First off, it was really interesting to see a different perspective with Jack's
prosopagnosia - something that isn't seen very often in a lot of media but is apparently more common than autism. Jack's narrative was all kinds of adorable and nervous; he had this innate confidence about him but he couldn't recognise anyone. Even in his own home, it was 'the woman who is probably my mum'. Which is daft because I can tell who is coming up the stairs with my eyes closed (my dad has particularly heavy footsteps) but I can see his point: he doesn't see people for their faces but their characteristics, their attitudes, even their hair styles, and that must be very difficult.
Libby, I immediately loved - I could completely understand her grief and how her hurt warped her relationship with food. It all just sucked but she had managed to turn it around and had come so far, she was just incredibly brave for facing her demons.
Jack I took a bit longer to warm to - he had a swagger about him that was proper cool but also a a distraction and defensive mechanism. That brave face he put on did nothing to warm me to him, as that was its purpose: to prove to the outside world he was normal, really, but all it did was distract from his insecurities. With Libby, her insecurities were obvious and her brave face was different, she almost played up to them, to show her bullies that they couldn't hurt her.
Even though I had my little issues with it, Niven has once again knocked it out of the park and given a greatly realistic love story while bridging the gap between obvious differences.
Published 6th October 2016 by Penguin. Thank you to the publisher and Netgalley for my copy in exchange for an honest review.