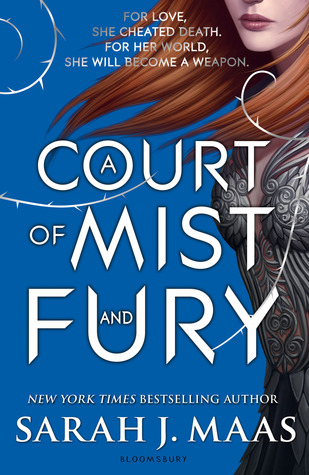 Feyre is immortal.

After rescuing her lover Tamlin from a wicked Faerie Queen, she returns to the Spring Court possessing the powers of the High Fae. But Feyre cannot forget the terrible deeds she performed to save Tamlin's people - nor the bargain she made with Rhysand, High Lord of the feared Night Court.

As Feyre is drawn ever deeper into Rhysand's dark web of politics and passion, war is looming and an evil far greater than any queen threatens to destroy everything Feyre has fought for. She must confront her past, embrace her gifts and decide her fate.

She must surrender her heart to heal a world torn in two.
I'm sure by now you've heard every opinion under the sun about this book - it definitely has split the fandom! So instead of a traditional review, I'm just going to give a few highlighted thoughts.
I know lots of people were annoyed about the change of love interest. And I thought I would be too, I mean Tamlin was just about the perfect hero in book one, right? But when he literally trapped Feyre in his castle and she had a panic attack? Yeah, I don't think so! I already had some feelings for Rhys from the first book, I thought it was a bit slimy and sarcastic but was very much putting on a face. This was developed very well in book two, as Feyre and Rhys get closer, it's evident that he is much more complicated that we thought, not to mention kind, generous and sweet.
Anyway, as much as I loved Feyre and Rhys together, and I did totally whoop out loud when something finally happened, I am a little torn for Tamlin. Then I remember what he did - and yes, he had his reasons but my thinking is that he either didn't notice or didn't want to notice that Feyre had changed, not just physically but emotionally, after their ordeal at the end of book one. Tam just couldn't see her as anything more than the poor little human girl and Feyre literally wasn't her anymore.
Anyway, enough of the romance talk! The story itself, Feyre learning to use her powers as a new evil lord is worming his way into their land, was brilliant. Balanced between budding romance and great thrilling adventure, Feyre learns more about herself and the complex Fae land and rules at Rhys' Nightmare Court. All in all, I really loved it - it was funny, very clever, surprisingly hot, and of course pulled together with Maas's brilliant writing.
Published 3rd May 2016 by Bloomsbury.