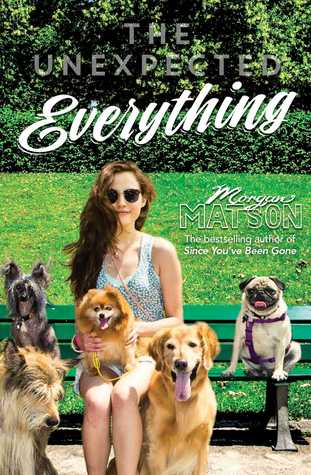 Andie has a plan. And she always sticks to her plan.
Future? A top-tier medical school.
Dad? Avoid him as much as possible (which isn't that hard considering he's a Congressman and he's never around).
Friends? Palmer, Bri, and Toby—pretty much the most awesome people on the planet, who needs anyone else?
Relationships? No one's worth more than three weeks.

So it's no surprise that Andie's got her summer all planned out too.

Until a political scandal costs Andie her summer pre-med internship, and lands both she and Dad back in the same house together for the first time in years. Suddenly she's doing things that aren't Andie at all—working as a dog walker, doing an epic scavenger hunt with her dad, and maybe, just maybe, letting the super cute Clark get closer than she expected. Palmer, Bri, and Toby tell her to embrace all the chaos, but can she really let go of her control?
Andie was a very interesting character: daughter of a politician, she was used to acting a certain way, having her day planned out, worrying about her image lest it reflect badly for her dad's career. She also had aspirations of her own, to get into a very competitive pre-med program. All of which flies out the window when her dad's office is caught in a fraud scandal and she is no longer guaranteed a place for the summer program. That's how she finds herself working as a dog-walker and getting to know Clark, the handsome stranger who is here for the summer.
Clark was all kinds of fantastic; sweet, a little unsure of himself, basically a huge dork, supported by his highly-successful fantasy series. I loved how Clark's writing contradicted so many assumptions:he was young yet so successful,;he had already written two great books but was suffering from some serious writers block, which bought in questions of self-worth.
I really liked the progression of a proper relationship between Andie and her dad. Even though they'd already been through so much together, not just his political career but losing Andie's mother to cancer, they were basically strangers. But fate intervenes and forces them to talk more honestly, about Andie's plans, about her life, and they bond in a much better and stronger way. Often in YA we just have absent parents and that's that but here, Andie wants a relationship with her dad and they both work towards it, and I really appreciated that.
I also loved Andie's friends, they all had such different personalities and bought something unique to the group dynamic. They were mostly supporting cast in Andie's story but had detailed and clever back stories that helped all of their progression or showed how far, or in fact how little, Andie had come. All in all, once again Matson's writing has blown me away, it was
so funny and clever and heartfelt.
Published 5th May 2016 by Simon and Schuster.