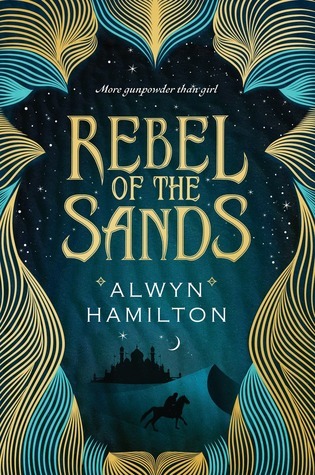 "Tell me that and we'll go. Right now. Save ourselves and leave this place to burn. Tell me that's how you want your story to go and we'll write it straight across the sand."

Dustwalk is an unforgiving, dead-end town. It's not the place to be poor or orphaned or female. And yet Amani Al'Hiza must call it 'home'.

Amani wants to escape and see the world she's heard about in campfire stories.

Then a foreigner with no name turns up, and with him she has the chance to run.

But the desert plains are full of dangerous magic. The Sultan's army is on the rise and Amani is soon caught at the heart of a fearless rebellion...

An epic story of swirling desert sands, love, magic and revolution.
Honestly, I was a bit apprehensive, especially as everyone has been raving about it, but really loved it. Just everything about this story was enthralling and interesting.
Amani wanted to escape her little dusty town, where all that awaited her was a loveless marriage. What I loved straight away about Amani was how independent she was;
she knew she couldn't rely on anyone to help her escape. So she uses her impressive skills to win money in a shooting game.
Unfortunately things don't go according to plan, not when a stranger turns up and the shooting game turns into a bar-room brawl.
Loyal almost to a fault, sarcastic and funny, Amani was an amazing character to follow as she ran from everything recognisable and got caught up in a revolution with a boy she barely knows. And
Jin was just... sigh. Almost devilishly handsome and charming, and he knew it, the chemistry between him and Amani was sizzling and while I am a sucker for a good romance, I appreciated that it didn't overrule the main story and it wasn't either of theirs main concern while running for their lives. Saying that, I did adore their relationship, how they pushed and supported each other.
I loved the mix of old Western and Aladdin style mythology; it was all magical horses made of sand and tricky djinni's and lost princes looking to reclaim his throne. Plus we learned about half-djinni's, dangerous and powerful people from a human and djinni pairing. Even though it was all supernatural, the fear and hatred towards these people was horribly similar to our world and it made my heart hurt.
I could rave about this a lot more, very easily, but I'm going to stop and finish with: magical, romantic and a true adventure, this is a fantastic debut and definitely an author to watch. When's book two out?
Published 4th February 2016 by Faber and Faber.