Weekly Highlights is a feature borrowed from Faye of A Daydreamer's Thoughts, where I get to highlight my posts of the week, show you my new books and talk about bookish things!
It's the summer! One of my jobs has finished for the summer holiday so I have lots more time off to (hopefully) read and actually do stuff! Well, when I can go outside without pollen attacking my face.
P.S - I know I am a little late, I usually post these on a Sunday but this week I did a whoopsie and completely forgot! Better late then never, yeah?
On The Blog
Currently Reading
A Girls Guide to Summer by Sarah Mlynowski - I bought myself a physical copy for my collection, even though I had an e-proof so I did have to wait for that to arrive before I could crack on but it is very good so far!
On My Bookshelf
As you can see, I went a little bit mad when I went up to London with my friend Alyce; we found some great books in a couple of charity shops and then went to Non Pratt's event in Waterstones and bought Tom and Lucy's new book Freshers! I read it in two days, it was brilliant, as expected, but be warned about reading it in public - I laughed out loud in the quiet coach on a train and got some funny looks!
I also got this month: Hidden Among Us by Katy Moran (bought off Faye - thanks Faye!) and Good Night Stories for Rebel Girls, which I am beyond excited for.
Verity Love – Jane Austen fangirl, manager of London's first romance-only bookshop Happy Ever, and an introvert in a world of extroverts – is perfectly happy on her own (thank you very much), and quite happy hiding in the office and lying to her friends about her fictional boyfriend Peter, whose presence is very useful for getting her out of social events.

But when a case of mistaken identity forces her to introduce a perfect stranger as her boyfriend, Verity's life suddenly becomes much more complicated.

Because 'Peter' is actually Johnny, and he too could use a fictional girlfriend. So against her better judgement and because she can't stand sitting on the sad singles table, Verity and Johnny decide to partner up for a summer season of weddings, big number birthdays and garden parties, culminating in her sister's Big Fat Wedding.

And by the end of the summer, there's a bad case of heartache that even Verity's beloved Pride And Prejudice might not be able to cure…
I adored Annie's first book The Little Bookshop of Lonely Hearts and am really excited about getting back into this book lovers world. Thank you Harper and Netgalley!
A Change is Gonna Come by et al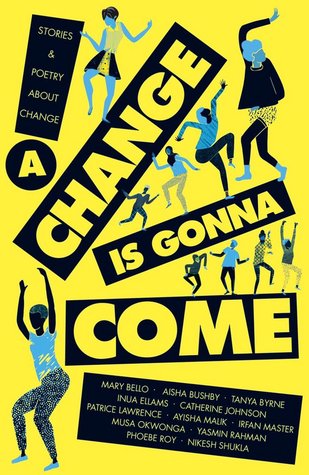 Featuring top Young Adult authors alongside a host of exciting new talent, this anthology of stories and poetry from BAME writers on the theme of change is a long-overdue addition to the YA scene. Contributors include Tanya Byrne, Inua Ellams, Catherine Johnson, Patrice Lawrence, Ayisha Malik, Irfan Master, Musa Okwonga and Nikesh Shukla.
Plus introducing four fresh new voices in YA fiction: Mary Bello, Aisha Bushby, Yasmin Rahman and Phoebe Roy.
I've just been approved for this so I am very excited! I don't really know what the stories are going to be about but with names like these, I'm looking forward to finding out! Thank you Stripes and Netgalley!
July TBR
I'm going to be slowly making my way through the new books I bought myself, but as usual my review books take priority as they are both coming out in August. Let me know what you're planning on reading this month and if you have any summer holiday plans!