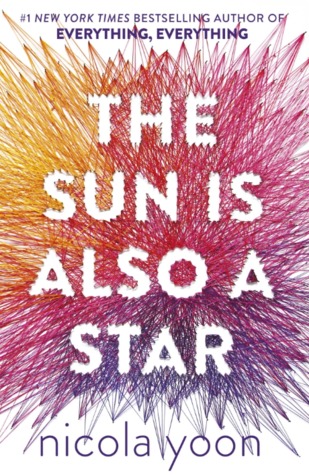 Natasha:
I'm a girl who believes in science and facts. Not fate. Not destiny. Or dreams that will never come true. I'm definitely not the kind of girl who meets a cute boy on a crowded New York City street and falls in love with him. Not when my family is twelve hours away from being deported to Jamaica. Falling in love with him won't be my story.
Daniel:
I've always been the good son, the good student, living up to my parents' high expectations. Never the poet. Or the dreamer. But when I see her, I forget about all that. Something about Natasha makes me think that fate has something much more extraordinary in store—for both of us.
The Universe:
Every moment in our lives has brought us to this single moment. A million futures lie before us. Which one will come true?
This story.... ah, this story was amazing! Set over the course of a day, we see Daniel and Natasha meet, fall in love and get cruelly torn apart by fate. While reading it, you know they are going to have to separate, Natasha is being deported after all, but you hope for an happy ending against the odds. It was completely
perfect for a sappy romantic, like me.
I fell hard for both characters, even though they are total opposites.
Daniel believes in fate and even though he is doing what his parents want of him and going to Yale to become a doctor, he desperately wants more out of life. So he looks for a sign from the Universe and finds Natasha.
Natasha was amazingly cynical but in a way that has developed through tough-skin and disappointment. She believes in science, things that can be seen and labelled and just laughs at Daniel's assurances that they were meant to be. But the scientific test of asking personal questions and getting to know someone so different from her gives Natasha pause. I'd actually heard of this test before, it featured on an episode of
The Big Bang Theory
so it was interesting to see it unfold with new characters.
It was also so very diverse, between Daniel the Korean-American, and Natasha the undocumented immigrant from Jamaica, and the huge incredible city of New York. The main story was interspersed with
little side stories that illustrated how we touch lives without realising and all the people we come into contact with aren't just side characters in our story but their own protagonists. It took a bit of getting used to but it was clever and emotive and pulled together this overarching power of fate. Also,
the ending totally made me cry. In fact, so did the epilogue. Just... tears. Like I said, sappy romantic.
Published 3rd November 2016 by Corgi. Thank you to the publisher and Netgalley for my copy in exchange for an honest review.