Weekly Highlights is a feature borrowed from Faye of A Daydreamer's Thoughts, where I get to highlight my posts of the week, show you my new books and talk about bookish things!
August already, huh? Summer holidays are half way done and I haven't really managed to do much of my holiday to do list yet - whoops! But, my fiance and I did go to comic con, which was amazing and exhausting. We did two days which meant we had loads more time to wander around but my shoulder still hurts from lugging heavy tote bags!
In other news, I'm only working weekends at the moment, because of summer holidays, so my weeks are being filled with reading, lounging around and the odd spot of baking. September is going to be a harsh turn back to reality!
On The Blog
Currently Reading
The Moonlight Dreamers by Siobhan Curham - purchased at YALC, details below, started it on Friday and at time of writing (Saturday evening), three quarters finished already! Really loving the diversity and the true friendships.
On My Bookshelf
Joe wakes up from a deep sleep to see his family leave in a removals van. Where they've gone, he has no idea. Erin moves house and instantly feels at home in her new room. Even if it appears she isn't the only one living in it. Bit by bit, Erin and Joe discover that they have somehow found a way across the ultimate divide - life and death. Bound by their backgrounds, a love of poetry and their growing feelings for each other, they are determined to find a way to be together.
Joe's brother, Olly, never cared much for poetry. He was always too busy being king of the school - but that all changed when Joe died. And when an encounter in the school corridor brings him face to face with Erin, he realises how different things really are - including the kind of girl he falls for.
Two brothers. Two choices. Will Erin's decision destroy her completely, or can she save herself before she is lost forever?
The Moonlight Dreamers by Siobhan Curham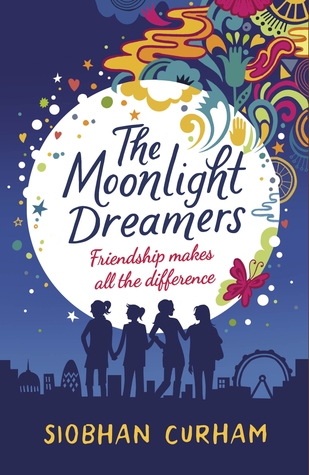 Amber craves excitement and adventure. Instead, she's being bullied at school for having two dads, and life at home isn't much better. Inspired by Oscar Wilde, Amber realizes that among the millions of people in London, there must be others who feel the same as she does; other dreamers – moonlight dreamers. After chance encounters with Maali, Sky and Rose, Amber soon recruits the three girls to the Moonlight Dreamers. It's high time they started pursuing their dreams, and how better than with the support of friends?
And I Darken by Kiersten White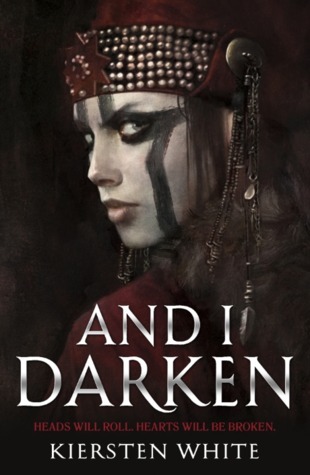 No one expects a princess to be brutal. And Lada Dragwyla likes it that way.

Ever since she and her brother were abandoned by their father to be raised in the Ottoman sultan's courts, Lada has known that ruthlessness is the key to survival. For the lineage that makes her and her brother special also makes them targets.

Lada hones her skills as a warrior as she nurtures plans to wreak revenge on the empire that holds her captive. Then she and Radu meet the sultan's son, Mehmed, and everything changes. Now Mehmed unwittingly stands between Lada and Radu as they transform from siblings to rivals, and the ties of love and loyalty that bind them together are stretched to breaking point.

The first of an epic new trilogy starring the ultimate anti-princess who does not have a gentle heart. Lada knows how to wield a sword, and she'll stop at nothing to keep herself and her brother alive.
These are from YALC - I think I showed tremendous restraint! I mean, I also bought a bag, some posters, some Pop Vinyls and a owl-shaped cushion from the comic con floor, but still! I also got physical copy of The Deviants by CJ Skuse and London Belongs To Us by Sarra Manning, both of which are now signed.
On The Other Side by Carrie Hope Fletcher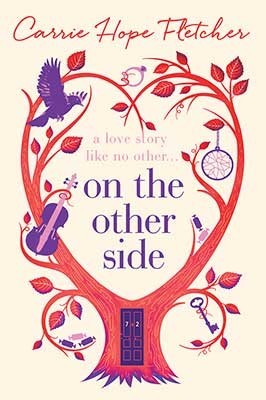 Evie Snow is eighty-two when she quietly passes away in her sleep, surrounded by her children and grandchildren. It's the way most people wish to leave the world but when Evie reaches the door of her own private heaven, she finds that she's become her twenty-seven-year-old self and the door won't open.
Evie's soul must be light enough to pass through so she needs to get rid of whatever is making her soul heavy. For Evie, this means unburdening herself of the three secrets that have weighed her down for over fifty years, so she must find a way to reveal them before it's too late. As Evie begins the journey of a lifetime, she learns more about life and love than she ever thought possible, and somehow , some way, she may also find her way back to her long lost love . . .
This I got on its publication day before comic con, which I can't believe I haven't read yet but am really looking forward to! Before YALC I also bought What's A Girl Gotta Do? by Holly Bourne (which I got signed) and Run by Kody Kepliner - both of which I've already read.
Harry Potter and the Cursed Child by JK Rowling
Based on an original new story by J.K. Rowling, Jack Thorne and John Tiffany, a new play by Jack Thorne, Harry Potter and the Cursed Child is the eighth story in the Harry Potter series and the first official Harry Potter story to be presented on stage. The play will receive its world premiere in London's West End on July 30, 2016.

It was always difficult being Harry Potter and it isn't much easier now that he is an overworked employee of the Ministry of Magic, a husband and father of three school-age children.

While Harry grapples with a past that refuses to stay where it belongs, his youngest son Albus must struggle with the weight of a family legacy he never wanted. As past and present fuse ominously, both father and son learn the uncomfortable truth: sometimes, darkness comes from unexpected places.
Ahhh! Picked up my pre-order on Tuesday and read it Wednesday afternoon. It was amazing and incredible and it made me cry and so very happy to have a new HP story!
Holding Up The Universe by Jennifer Niven
Everyone thinks they know Libby Strout, the girl once dubbed 'America's Fattest Teen'. But no one's taken the time to look past her weight to get to see who she really is. Since her mum's death, she's been picking up the pieces in the privacy of her home, dealing with her heartbroken father and her own grief. Now, Libby's ready: for high school, for new friends, for love, and for EVERY POSSIBILITY LIFE HAS TO OFFER. I know the part I want to play here at MVB High. I want to be the girl who can do anything.

Everyone thinks they know Jack Masselin too. Yes, he's got swagger, but he's also mastered the art of fitting in. What no one knows is that Jack has a secret: he can't recognize faces. Even his own brothers are strangers to him. He's the guy who can re-engineer and rebuild anything, but he can't understand what's going on with the inner workings of his own brain. So he tells himself to play it cool: Be charming. Be hilarious. Don't get too close to anyone.

Until he meets Libby. When the two get tangled up in a cruel high school game which lands them in group counseling, Libby and Jack are both angry, and then surprised. Because the more time they spend together, the less alone they feel. Because sometimes when you meet someone, it changes the world - theirs and yours.
I hadn't even realised this was available until a friend at work mentioned it! Thank you Netgalley, I'm really looking forward to what Niven can come up with next!
August TBR
Most of my TBR will be from my new books from YALC - are there any that I should push to the top of the pile? And then there's my classic for the month, which will be Shirley Jackson's We Have Always Lived in the Castle.