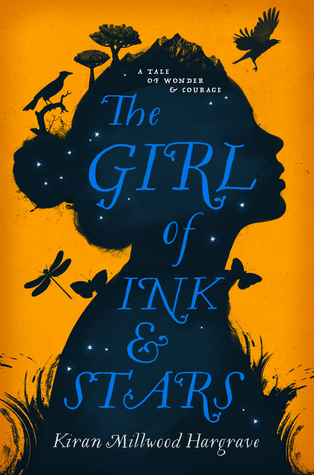 Forbidden to leave her island, Isabella Riosse dreams of the faraway lands her father once mapped.

When her closest friend disappears into the island's Forgotten Territories, she volunteers to guide the search. As a cartographer's daughter, she's equipped with elaborate ink maps and knowledge of the stars, and is eager to navigate the island's forgotten heart.

But the world beyond the walls is a monster-filled wasteland – and beneath the dry rivers and smoking mountains, a legendary fire demon is stirring from its sleep. Soon, following her map, her heart and an ancient myth, Isabella discovers the true end of her journey: to save the island itself.
Isabella goes on a quest to rescue her friend - tags along, in disguise, with the group being led by Lupe's father, the Governor. As worried as she is for her best friend, Isabella is very excited to see what lies beyond the borders of her village, to explore the uncharted parts of the island.
Joya, the island, was just incredible. Its origin and history was pure myth and magic, it was all about the stories and the detailed, beautifully drawn maps to tell of how it was cut from the ocean floor and floats, how the birds escaped by flying back into the sea and the wolves ran into the woods in fear of the demon that also calls this island home. Of course, now no-one really believes these stories, until people start disappearing and animals are found dead.
The whole story was very fantastical, it flowed beautifully between old legends and new maps, and throughout was the strength of friendship. It was actually also a little young, I didn't realise that Isabella and Lupe were
just 13 years old, still girls in the way they play and trust in their friendship. It was so cute and so powerfully innocent that Isabella would do anything for Lupe and vice versa.
All in all, a very moving and lyrical story about myths based in truths and the power of friendship.
Published 5th May 2016 by Chicken House. Thank you to the publisher for my copy in exchange for an honest review.