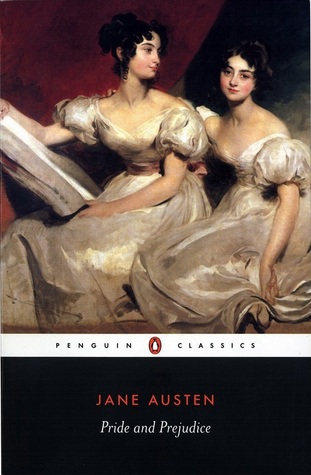 When Elizabeth Bennet first meets eligible bachelor Fitzwilliam Darcy, she thinks him arrogant and conceited, while he struggles to remain indifferent to her good looks and lively mind. When she later discovers that Darcy has involved himself in the troubled relationship between his friend Bingley and her beloved sister Jane, she is determined to dislike him more than ever. In the sparkling comedy of manners that follows, Jane Austen shows the folly of judging by first impressions and superbly evokes the friendships, gossip and snobberies of provincial middle-class life.
Everyone knows this story, although I've
never actually read it. I've tried a few times before but the prose doesn't always agree with me. That's why I've waited this long to try it again, I definitely need to be in the right mindset. Having said that, it is really easy to read, although it did take me a while!
The Bennett family is so easy to relate to, the sisters all had their individual personalities but Elizabeth and Jane's were the strongest.
Elizabeth is famously strong willed, out spoken and prideful. Her ability to read people is one of her proudest strengths but all that gets thrown out the window when her first assumption about Mr Darcy turns out to be completely false.
There are lots of different characters, from the Bennett's themselves, to their neighbours, friends both new and old. Obviously Darcy and Bingley were big players in this, as well as Captain Wickham, but there was also Mrs Bennett, with her hysterics and forceful love for her daughters' happiness; Mr and Mrs Gardiner, the girls' aunt and uncle who help in the girls' entrance to society and later with Lydia's "thing" with Wickham; Catherin De Bourgh, a powerful woman who apparently can't help but push her nose into everyone's business.
It was all very middle class, with marrying off daughters, worries about money, their place and reputation in society. I really enjoyed reading the original story; there were lots of little pieces I wasn't aware of and getting to know the original characters in their rightful place in history was great. I did
have all the different versions running through my head, especially the recent web series Lizzie Bennett Dairies, with lines or scenarios I recognized. I'm not sure whether this ruined my reading or not; as much I love the various adaptations, it did mean that I was anticipating events way before they occurred. Either way, very glad I've read and loved the original story and the most famous Austen novel.
Published 30th January 2003 by Penguin. First published 1813.